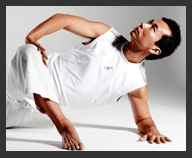 Learn the foundations of Yin Yoga at this workshop by Victor Chng. Learn to improve your flexibility safely, gain insight to energy flow patterns within your body and understand how to integrate strength and flexibility to advance in your practice.
Dates: 11 November (6:30om – 9:00pm)
13 November (9:30am – 12:00pm)
13 November (2:00pm – 4:30pm)
Venue: The Dance City
149-4 & 151-4
Jalan Lancang,Taman Seri Bahtera
56100 Kuala Lumpur
Victor Chng is a certified Yin Yoga instructor trained by Paul Grilley, the founder of Yin Yoga. Victor has been teaching and conducting Yin Yoga workshops all through Asia and trained more than 500 teachers in the region.
For details of this upcoming workshop, go to : http://yogaswee.blogspot.com/2011/09/yin-yoga-workshop.html , contact Swee Seng at +6016-237 2433 or email : swee_seng@yahoo.com