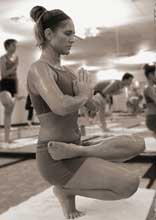 With Hot Yoga gaining popularity in Malaysia, here's a brief background of where it came from.
Hot Yoga (or Bikram Yoga) is a series of 26 postures beginning with one warming up breathing exercise, progressing through 24 asanas and finishing with one toxin eliminating breathing posture.
It was developed by Bikram Choudhury some 30 years ago. Born in Calcutta, Bikram began studying yoga when he was only four. At the age of thirteen, Bikram won the National India Yoga Contest, and was undefeated for the next 3 years.
Bikram later went on to pursue an athletic career as a marathon runner and a champion Olympic weightlifter (Tokyo 1964). A knee injury in a weight lifting accident at age 20 changed his life and doctors predicted he would not walk again.


Video of a Hot Yoga Class courtesy of YouTube.com
Finding his way back to India and under his yoga guru, Bishnu Ghosh, it took 6 months of yoga therapy for his knee to totally recover. Bikram's own healing regime provided the foundation of Hot Yoga as we know it today.
Hot Yoga classes are held in a heated room (naturally). This allows for deeper stretching and minimizes lactic acid build-up hence reducing the chance of injury. Each posture is completed twice, each leads on from the next, preparing the body.
Rooms are usually mirrored to allow for greater body awareness so that students can refine and deepen their postures with more ease.