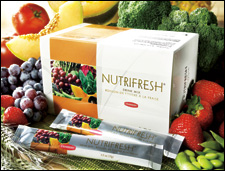 I must admit I am an E.Excel fan. Their products cost a bomb but they are good, I've been taking Nutrifresh for almost 2 years and it complements my "chap fan" diet pretty well. What is lacking in chap fan nutrition is made up for in the 20 or 30 different fruits & vegetables that are somehow magically packed in one sachet of Nutrifresh powder.
Recently I decided to be more adventurous and tried Nutrifresh Strawberry. Expecting it to be just normal Nutrifresh with strawberry flavouring, I was pleasantly surprised when I tasted the strawberry seeds in the drink.

Yep these guys really mean it when they say fruits & veges. Here's what the box has to say about the ingredients:
Proprietory Mix (Soybeans, Grape, Banana, Pineapple, Asparagus, Barley, Broccoli, Cabbage, Cantaloupe, Carrot, Citrus Peel, Honeydew, Peas, Pear, Peach, Grapefruit, Lemon) Fructose, Strawberry, Rice Powder, Vanilla.
WOW! no wonder it costs a bomb! Nutrition is one thing, but the drink actually tastes fantastic

Believe me it's far from the coppee tiam fruit juice which has 2 drops of freshly squeezed juice mixed with two cups of water and 3 table spoons or sugar. These so-called fruit juices really cheese me off but Nutrifresh is for real.
All the chap fan and coppee tiam fellas would do well to package this drink with their food offering. And everyone would be more healthy for sure