Nowadays, any matter concerning healthy lifestyle has become a norm in everyday conversations, in any age groups and in all kinds of communities. The only concern is how is one going to achieve that?
The food we consumed everyday and our daily physical exercises are important to determine whether we are pursuing a healthy lifestyle or not. However, try as we may, it is never an easy task to set a proper balance of what we consume nor how much physical workout can we do a daily especially when we have other priorities in hand.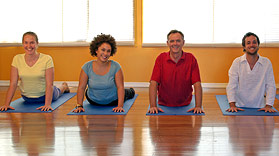 At the end of the day, we could only be achieving a minimum improvement to our healthy lifestyle regime. Then it's back to the question, how?
What About YOGA?
Yoga is one of the hottest discussions around, especially when healthy lifestyle is concerned. Though most people painted Yoga merely as an exercise of relaxation or a therapy for the stressful, it is more than that. It is also a gateway for better health and physical fitness to the body. That's not all, it is never a waste of time in Yoga, where each time spent doing Yoga involves the development of healthy body and mind. At the same time, it will definitely improve your social circle as well.
More explanation on the Benefits of YOGA
Professionals, especially those who spend majority of their weekdays in office, are limited to exercising as they spend most of their time confined to their desk and in front of their computers. By the time they are home after a long day of work plus the hours stuck in traffic jam, they would prefer to retire to their sofa, in front of the television or straight to bed. The only exercises or body movements they have done are probably walking to their car or walking to the Photostat machine!
How about students? Similar to the professionals, students' routines has always been sitting in class, facing books and teachers almost everyday. This will only help in the development of mind, however, neglected their physical needs. With all the work, meetings, and tasks to be completed everyday for the adults; school projects, homework and studying for the students. It could only lead to one thing – stress.
So how does Yoga help to make a difference in your healthy lifestyle plan? Well, unlike other excessive exercises that will take a neither long time nor strenuous, Yoga is a less exhausting practice that only need about three exercises a week. All you need is 45 minutes to 1 hour per exercise to maintain good health.
Do you know that Yoga helps in crafting and toning your body as well as losing weight?
Yoga shapes up your body because all the Yoga poses help to tighten your muscle and make your body line better. From what seems to be a sweat-less exercise, Yoga will actually help you burn unnecessary fat and generate sweats to rid of any body toxin.
Unlike many other exercises that build bulk, Yoga helps increase your flexibility. As age creep up on you, this becomes more important.
Yoga is a perfect exercise for retirees and housewives who spend their time at home to go for something useful and healthy.
That's not all! Expand your social circle when you learn Yoga as you will meet all kinds of new friends at Yoga centre. So why wait? Let's do Yoga together for a healthier lifestyle and personal well being!