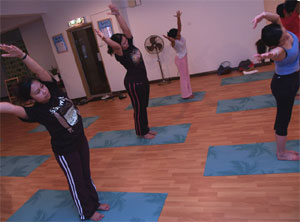 Attention all Ladies! Studio W is giving free yoga classes this whole week up until Sat 11 April 2009. The studio is located at Kota Damansara and is the first all-women fitness studio. Isn't it great when you can get all sweaty and crazy without feeling self-conscious about the way you look? And what better time to check out if this is the right studio for you then to try out some of their free classes?
Those of you who are looking for a total body workout; something to get your heart pumping might like to try the Power Yoga classes. If you prefer to tone your body and improve your blood circulation without too much strenuous exercise, then Flow Yoga is the class for you. For beginners who are just looking to find out what yoga is all about, do try the Alignment Yoga classes.
Other exciting classes offered at Studio W are Jazzercise and Body Shaping. Limited spaces are available for these free classes so you may want to hurry up and register as soon as possible.
Hurry up, don't lose out!