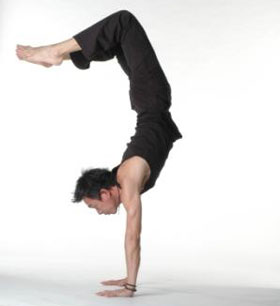 Well-known international yoga trainer, former chief instructor of Yoga Zone and the first Malaysian to produce his own instructional Yoga DVD (Living in Energy), Gilbert Ng sits down for an exclusive interview with KL Yoga on his experiences and on starting his own studio, Ojasyoga.
Q: How did you first get interested in yoga?
Gilbert: When I was 23 years old, I had quite a serious osteoporosis problem. I was suffering from joint aches and at one point, the pain got so bad I couldn't even work.
After taking up yoga, my joint pains slowly disappeared in about 5 to 6 months. Ever since then, I developed a passion for yoga and have not stopped practising until today.
Q: Why did you decide to become a yoga instructor and how has your career progressed over the years?
Gilbert: After I was cured, I became highly interested in yoga. Back then, I was working as a hair-dresser cum make-up artist and my work involved lots of traveling to different countries.

Each destination I went to, I would always make the time to attend any yoga or physiotherapy workshop that was available. Over time, I gained a deep knowledge and understanding of the science of yoga.
One day, a friend requested that I conduct a yoga class as a favour to him. Things just progressed from then on. Later I took on a position as yoga instructor at Yoga Zone where I was promoted to Chief Instructor until the company closed down last year.
Nowadays I conduct Teacher Training Courses (TTC) and instructor workshops in several countries – China, Taiwan, Singapore, Bangkok – and when I'm not traveling, I'm teaching yoga in my own yoga studio, Ojasyoga, in Bukit jalil.
Q: Could you explain a little bit about the science of yoga?
Gilbert: Actually I've always been very interested in the science behind yoga. Although I could feel its health benefits but nobody could give me a satisfactory answer as to why yoga helped. What was the scientific and medical explanation behind it?
That was why in my own time, I would not only attend as many yoga workshops as I could but I also attended classes on physiotherapy and studied the human anatomy.
In Ojasyoga, I teach my students the science behind each yoga posture or movement so that they know what kind of muscle groups are involved with each stretch or pose. That is why we have an anatomy chart in our studios. By being more aware of their bodies, they will know their own limitations and won't hurt themselves.
Q: What types of yoga do you teach in Ojasyoga?
Gilbert: Our faster-paced yoga classes are Energy Flow Vinyasa, Hot Vinyasa and Yoga Core. Yin Yoga and Restorative Yoga are two forms of our therapeutic yoga which are also suitable for students who need help with their health problems. Other than that, we offer Hatha Yoga, Pilates and the Healing sessions.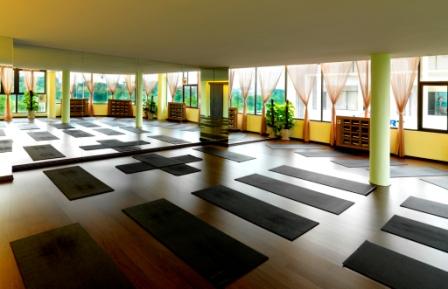 Ojasyoga's spacious studios provide a comfortable backdrop for students to learn and improve your yoga
Q: What are healing sessions?
Gilbert: Healing sessions are especially for students who need help with specific health problems. They are held in small classes where we interact closely with our students, provide consultation and help them with their health problems through corrective yoga, sometimes with the assistance of props.
These sessions are free as it is our way of giving back to the students by helping them improve the quality of their lives. But because these classes are very popular, the students need to book in advance.
Q: What made you decide to start your own studio?
Gilbert: It has been my dream to start a studio of my own, where I could pass on my knowledge of yoga and help others improve their quality of life. After I left Yoga Zone, it was the right time for me to do just that.
Q: Actually, what really happened at YogaZone ?
Gilbert: Yoga Zone used to be one of the strongest schools in KL at the beginning. It started with just two studios with about six or seven really good instructors leading the classes. Perhaps, the company expanded a little too fast then without proper financial planning.
In a short span of time, the number of instructors grew to 50 and the price of packages was slashed by almost half. Yoga Zone became more like a fitness club than a yoga centre. In the long run, the company just couldn't sustain itself.
Also there was a drop in the quality of the classes as the company grew larger. When there were too many students in a class, we couldn't provide everyone with the attention that they needed.
Q: Were you aware of the problems then?
Gilbert: Yes, towards the end it became clear that the centre was in trouble. I was still teaching classes even though I wasn't paid. But I didn't mind as I wanted to help out the owners of Yoga Zone who were my friends.
And Yoga Zone provided me with a training ground to hone my skills. I was allowed to conduct large classes, sometimes with 50 to 70 students, and taught five to seven classes a day. Also there was a large pool of talented instructors I was able to learn from.
On top of that, the studio gave me an opportunity when they promoted me to Chief Instructor. As such, I will always be thankful towards Yoga Zone as I gained so much experience there.
Q: Can you share with us what makes a good yoga instructor?
Gilbert: A good teacher is one who teaches from the heart. In my case, yoga is my devotion. I practise about 4-5 hours of yoga everyday. A good teacher must also spend at least an hour for self-practise daily to truly understand the knowledge and technique behind each pose. And of course, one should have an extensive knowledge of the science behind yoga.
Q: What are your plans for Ojasyoga in the future?
Gilbert: There is quite a lot of demand from my ex-students living in other areas of the Klang Valley who are asking me to start a studio closer to where they live. I may consider starting another branch. We'll see how things go.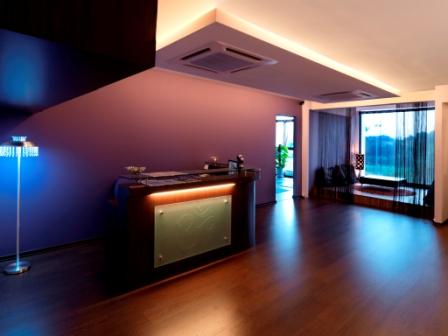 Ojasyoga's reception in trendy vogue design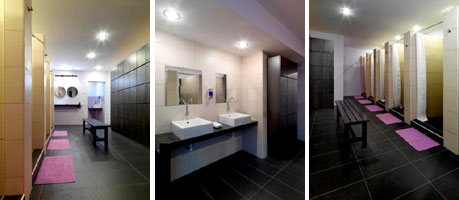 Newly renovated changing rooms offers the best of comfort for students
Gilbert Ng is an international yoga trainer and a former Chief Instructor at Yoga Zone. He is a principal in Ojasyoga, a boutique yoga studio in Bukit Jalil KL.