Sim Yoga & Health, located at Taman Segar Perdana, Cheras, started last year under the partnership of Jestine Yap and Kian Yap. The centre offers a wide range classes from yoga to martial arts and dance, including interesting variations of yoga such as Lift Yoga, Family Yoga, Kids Yoga and Man Yoga. Jestine Yap, a creative entrepreneur with a sunny personality, shares some insights on her yoga centre and her future plans for Sim Yoga.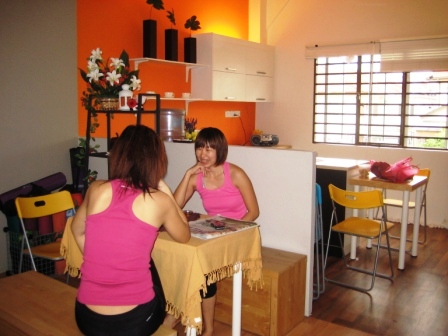 Jestine Yap (right) relaxes in her lounge at Sim Yoga. Behind her is the kitchen showroom for her part-time interior design business.
How did you get involved in yoga?
Jestine: I was initially an interior designer for several companies such as Kitchen Cabinet Co. and Design & Built. But after working for several years, I decided to pursue something which was less hectic and could give me more flexible hours.
One day, I attended a yoga class and decided that was what I wanted to do – teach yoga. And because I had always been quite flexible and have a dancing background of 4 years, I found yoga quite easy to pick up.
How did you train yourself to become a yoga instructor?
Jestine: I took up Teacher's Training Courses (TTCs). Even now, I still regularly attend training. I gained my teaching skills when I was attached to Dance Yoga as an instructor. Back then, I was very fortunate to be given 80 classes a month to teach. Although starting off my salary was quite low then, I learned a lot.
Is it important for an experienced instructor to still attend training? Where do you train nowadays?
Jestine: It is very important for a yoga instructor to constantly upgrade herself/himself as there are always new trends and techniques coming up. When I am teaching, it is not considered self-practise because I am concentrating on guiding the class and not on myself. So having time for self-practise is very important.
Currently, I am a member of YSynergy Asssociation, an association that is set up to foster quality yoga instructors through training. They invite international instructors to hold their training courses and workshops, which I frequently attend.
Did your health benefit in any way from yoga?
Jestine: Yes. Back then, even though I occasionally jogged, my body was often lethargic. And my body tended to put on weight easily due to the lack of exercise. When I started to practise yoga, the first thing I noticed was that all my pre-menstrual symptoms disappeared within a month.
My energy levels improved. Also, due to the exercise and breathing techniques, my body automatically needed less food, and so it helped me to maintain a slim figure.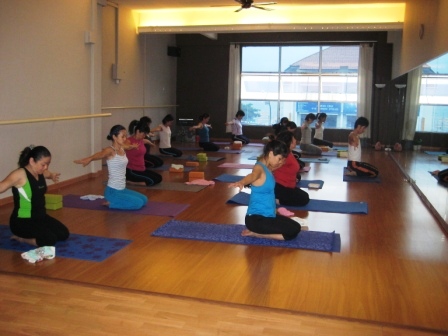 Students warming up in the spacious Sim Yoga studio
You have some varieties of yoga offered at Sim Yoga which are quite uncommon in other centres in KL for example Lift Yoga, Family Yoga and Man Yoga. Can you explain what these are?
Jestine: Lift yoga incorporates the usage of 2 pound weights into yoga. This is especially suitable for women after 35 years old, who have given birth and are quite weak. It can help build better posture, denser bone structure, increase metabolism and increase strength of arms and overall body. Actually Lift Yoga is popular in Western countries but is still relatively uncommon here.
Family yoga is a family-bonding form of yoga. At least one parent and their child must be present to practise family yoga. This can really help parents to bond with their children, especially with the kind of hectic schedules that parents follow nowadays. It will help parents understand their children better.
We also have a special class for children called Kids Yoga. But Family Yoga and Kids Yoga are only held during school holidays for now as this is usually the time that parents and their children have the time for such activities.
Man Yoga is a yoga workshop specifically for men. This class is held to encourage more men to try out yoga, particularly those who are interested but feel uncomfortable attending yoga with ladies. The class is also conducted by a man instructor.
Where do obtain your certification to conduct these classes such as Family Yoga and Kids yoga?
Jestine: We are certified through Ysynergy.
Other than yoga, you offer a range of martial arts and dance classes too?
Jestine: Yes. My partner, Kian Yap, is a martial arts instructor and enthusiast. So we decided to bring in classes such as Capoiera, a rhythmic, dancing form of martial arts, and Kids Wushu.
What are the classes you currently hold and how many instructors do you have?
Jestine: We have about 10 free-lance instructors. Our usual yoga classes are mainly Hatha and there are several levels. More of our uncommon classes are such as mentioned earlier. Other than yoga, we also offer Pilates, Taerobic, Belly Dance, Kid's Ballet, Kid's Latin and Reggae Dance.
What are your corporate packages like?
Jestine: We cater to companies who want to encourage their employees to de-stress and lead a healthier lifestyle. Our packages varies from client to client and depends on how many people are involved, the location and how many classes are to be held. We can offer a variety of classes depending on what they like, for example we could conduct a mixture of yoga and dance classes.
The Chempaka School is one of our clients. They have a Sports Club and we hold yoga classes for their teachers twice a week at their schools in Damansara and Cheras.
What is your advice for budding instructors to become successful such as yourself?
Jestine: Lots of patience. And never give up. Never give up on building knowledge and on the practise.
Before we end, what are some of your future plans for Sim Yoga?
Jestine: Moving forward, we'd like to hold health cooking classes to encourage and to teach people to eat healthier and more natural food. Recently, we visited an organic farm to gain a little insight on this.
We will also start holding yearly yoga retreats for our students. Next year, we hope to have a trekking retreat to Kota Kinabalu.
For more information, you may contact them through the following details:
Contact person: Jestine Yap
Tel: 016-217 7761 / 016-263 1307
Address: Lot 2-25, Jln SP2, Taman Segar Perdana, Cheras, 43200, Selangor.