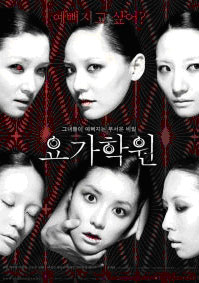 Calling all horror-loving, avid yogi practitioners!
Do keep a lookout for the latest K-Horror released in Korea two months ago simply titled 'Yoga'.
It all started with Winter Sonata, which sparked the wave of Korean drama craze that hit the Chinese female population in Malaysia.

I could never understand what the big hype was over the typical long-winded plots that revolve around cancer-related tragedies, bawling women, rich jerks and complicated love triangles. Although, I must admit that I once pulled an all nighter watching Full House with my cousin… because she was raving about how funny it was and didn't mind watching it a second time round.
But Korean Horror….now, that stands out in a class of its own! I loved Tale of Two Sisters, Wishing Stairs and Whispering Corridors. Being a horror flick snob, I do indeed do my homework before committing one and a half hours of my precious time in front of the screen.
Here's the plot of 'Yoga' as I understand it….
A beautiful Hyo-Jeong visits a mysterious yoga institute run by an ex-actress. During the intensive training, yoga master Na-Ni explains to Hyo-Jeong and the other girls that only one person who masters the course most successfully would obtain the secret of ultimate and immortal beauty.
There are five rules to follow during the 1-week yoga course:
1. Do not eat
2. Do not take showers within an hour after class
3. Do not look at the mirror (I suspect this is the hardest for most yoga divas haha!)
4. Do not leave the building
5. Do not call anyone
As the training goes on, the girls get tempted to break the rules and Hyo-Jeong starts to sense something wrong about the place and the ex-actress who doesn't seem to get old…

Misled by desire for eternal beauty and youth, a few perfectly gorgeous women are led to a sinister place where they all end up screaming for their lives.