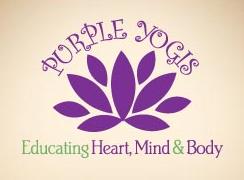 Inconspicuously tucked away in a corner lot at Lucky Garden, Bangsar is an unexpected little find bearing a name that immediately screams fun and creativity with a hint of difference. How can anyone forget an intriguing name such as 'Purple Yogis'. That was the reason KL Yoga decided to find out about what this curious establishment was all about.
I climbed up the narrow stairway, rang the doorbell and was warmly greeted by Preeti Patel, the studio administrator who immediately offered to show me around the studio. I was instantly drawn to the 'clean and fresh' air that permeated throughout the whole space. It was then that I found out that Purple Yogis is Malaysia's first allergy friendly yoga, dance and drama studio. Using a combined system of surface treatment, advance air purification filtration and bi-polar negative ion technology supported by the US Environmental Protection Agency, it reduces the transmission of indoor pollutants by up to 98%. All around the reception area, corridors and studio rooms are ceiling mounted and floor standing air purification devices, as well as germicidal medical lamps and ultraviolet light that destroy contaminants. Even the floor surfaces are coated with a biostatic film to prevent the growth of bacteria, fungi, mould and mildew. This is what makes Purple Yogis stand out from other similar places, as it sets out to provide the highest level of comfort and protection to their clients and employees.
Purple Yogis is the brainchild of the young and enterprising Shobie Malani. Right out of law school, she briefly worked in the industry but soon realised that the 9 to 5 job routine was not her cup of tea. She went on to teach English at private colleges and to front-liners of corporations before starting up an event management company which she ran tirelessly for 5 years. Being a naturally creative individual who loved painting, scrapbooking and photography, Shobie then turned to teaching kids art. She helped her husband out in his business for 2 years after they got married and then decided that her heart still belonged to the arts. That was when Shobie set out to study yoga under Master Mani of the Malaysian Yoga Society (MAYI). It marked the beginning of her dream to have a place where people could learn and enjoy the creative arts. Purple Yogis was officially launched in September 2009.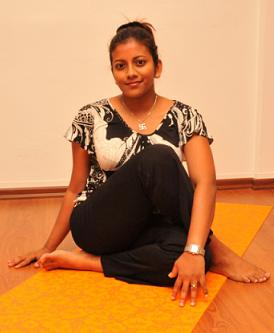 Shobie Malani, founder of Purple Yogis
Although barely 2 months old, Purple Yogis has an impressive selection of yoga, dance and drama classes that appeal to the various array of picky urban dwellers. Yoga lovers will be thrilled to find that this place offers Traditional Hatha Yoga, Vinyasa Flow Yoga, Teen Power Yoga, Kids Yoga, Corporate Yoga, Lunch-Break Yoga, Men's Yoga, Pre & Post Natal Yoga, Mums & Bums (for mummy & baby) Couples Loving Yoga and Slimming Yoga. Dance lovers are not left out with the choices of classes such as Breakdance, Hip Hop, Bollywood Jam, Belly Dancing, Jazz, MTV Dance, Cardio Dance, Cuban Salsa and Line Dance. Drama classes designed for kids are also available at Purple Yogis.
The Kid's Room – Where drama classes are conducted and where yogi moms can safely leave their little ones while performing the Sun Salutation
It is Purple Yogis' mission to offer affordable classes and promote healthy, eco-friendly living. They even have a juice bar that serves up delicious healthy shakes and fresh sugarless juices, the perfect after-class thirst quencher. The staff and customers of Purple Yogis are true advocators of green-living. Over here, irresponsibly convenient paper cups are not an option, electricity is mindfully conserved and double side printing is religiously observed. The next project they are working on is to set up a mini recycle station at the studio.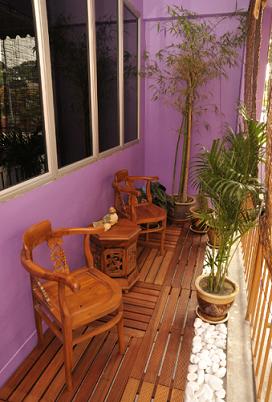 The Garden Area – a place to reflect and relax while sipping a tall glass of health shake fresh from the juice bar
Flexibility is another appeal factor here as classes can be tailored and conducted according to the group's convenience. Recently a few guys approached the studio, requesting for a yoga class exclusively for men. So being true to their tagline of 'If we are available and have the manpower, we will do it!' the Men's Yoga Class is due to commence in January next year. The studio rooms are also open for party, meeting, private practice session and workshop rentals.

The Studios – Always kept smelling Lavender fresh and germ free
Visit Purple Yogis for more information about the attractive promotions they are currently running. Sign up for a 3 month Slimming Yoga course with effective techniques to lose and keep unwanted weight at bay forever. Or join the Cuban Salsa pioneer batch and learn how to perform those sexy moves with flair and grace of a Latino dancer.
Purple Yogis
2A Lorong Ara Kiri 3
Lucky Garden, Bangsar
59100 KL
Website: www.purpleyogis.com.my
Tel : +603 20952520
Mobile : + 6014 2284079