Artistic expression and health go hand in hand at The Dance City, an academy on a mission to introduce exercise as a living art form, and not merely a monotonous series of movements. Despite being based half way around the world, Joey Liew, the Principal and Artistic Director of Dance City manages to take some time off her busy schedule for an interview with KLYoga.
How did you get involved in dance and yoga?
Joey: I became serious about dancing when I was 18 years old after graduating from high school. In order to keep my promise to myself to be a professional dance artist, I made my way to New York to study dance at the age of 22. I seriously injured my back before I went to New York and was diagnosed with having a slipped disc on the 5th lumbar vertebra. The doctor recommended surgery with 50% chance of full recovery but I definitely could not dance professionally anymore.
It was shocking, of course. After long discussion with my family, we decided that I should not go through with the surgery. Instead, I held on to my initial decision to pursue my dreams. I prayed and desperately looked for information to heal my back while I was in New York. That was the first time I encountered the yoga and Pilates method. After about six months of rehabilitation-based yoga and Pilates exercises, I was up and dancing with more strength and technique than ever before. Since then dance and yoga were never separated from my life.
What inspired Dance City and who are the main figures behind it?
Joey: After coming back from overseas in year 2000, I was full of passion and wanted to share with people the art of dance and the tremendous healing power of yoga. It became a motivation for me and my partner (who coincidently is my dearest husband – an artiste and a certified personal fitness trainer) to open up the academy.
Dance seems to be the main focus of the academy. What are the classes and courses offered at Dance City?
Joey: In the beginning, when we were setting up the studio, most of our courses were dance lessons with 1 or 2 yoga classes. At first, we named our school AKNT Creative Arts. Now, we call it DANCE YOGA. We tried to promote yoga then but it was not as popular as it is today. People did not seem to know yoga as much as these days. I started with 2 students in a class and eventually increased to nearly 40. I was pretty happy and enjoyed teaching dance and yoga at the same time because I could share the experience with my students about these two different forms of body movements.
The classes we have now at DANCE YOGA are dance teacher training course, yoga teacher training course, and other regular classes such as Ballet, Jazz, Ballroom, Modern Dance, Yoga, and Children/Adult Dance Performing course.
The academy seems to portray a distinct expression of artistic flair. Is this somehow integrated into the yoga classes?
Joey: Yes. Dance is a sport and art form that generally refers to movement of the body. We teach our students to move and flow with the yoga poses like a dancer aesthetically and artistically. We don't just teach our students yoga poses, we teach our students to love them.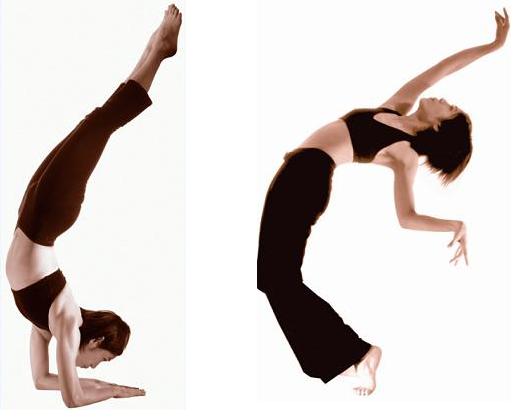 Fluid and artistic movements in dance and yoga, as demonstrated by Joey
Tell us about the different varieties of yoga classes conducted at Dance City.
Joey: We mostly do flow yoga and some Hatha. Our main focus is on teacher training.
What types of clients are attracted to sign up for yoga classes here and why?
Joey: Most of our students are from the neighbourhood and the majority are ladies. However, there are students from all over Malaysia as well as from overseas such as China, Singapore, and Indonesia, who have signed up for the yoga teacher training course.
How many studios are there in Malaysia and do they all have the same offerings?
Joey: There are 2 locations in Malaysia; Cheras and Sg. Long. We offer the same courses, but teacher training courses are conducted in our Cheras branch.

Fully equipped studios where dance and yoga classes are conducted
Besides regular dance and yoga classes, what other courses are available to the public?
Joey: Each year we will organise dance teacher training workshops for primary schools and kindergarten teachers, and also yoga workshops. Once in a while, we do offer dance workshop such as Jazz, hip-hop, and contemporary dance.
What makes Dance City stand out from the mass of yoga studios that have sprouted all across Malaysia?
Joey: We teach our students how to carry out the beauty of the flow in yoga poses, we also teach our students physiology and anatomy behind yoga poses, so that they can move their body accurately and beautifully like a dancer, and most importantly to practise injury-free.
What interesting developments can we expect to see in the near future?
Joey: We will continue to inspire and open our door to people who are willing to become yoga teachers. We will also increase our efforts in overseas student enrolments.
How is the yoga scene in Malaysia compared to Canada?
Joey: I'm glad to see that there is an increasing amount of people in Malaysia who are getting more conscious about their health and wellness. Many people take yoga as part of their daily living routine as in Canada.
There is an increasing awareness and appreciation these days for art and culture. How do you think this will shape tomorrow's society?
Joey: Every art form and culture is related to the human being. It is an expression from within our spirit through our body. Humans need to be connected, especially in this high technology society. I believe the awareness and appreciation for art and culture will link every human together, and ultimately bring us to understand that we are all one.
The Dance City is located at:
149-5 Jalan Lancang
Taman Seri Bahtera
56100, Kuala Lumpur
Tel: 03-91331642
Email: info@thedancecity.com