No flashy banners, no fancy website and no gaudy signboards. KLYoga decides to sneak a peek at a small independent studio called Uni Yoga, which is well known among the yoga community of Klang Valley. We met up with the owner, Foo Jong Hau for a friendly chat at his studio.
How did your relationship with Yoga start?
Foo: Initially when I took up yoga 8 years ago at Fitness First, it was for the fun of it. At that point in time I was more attracted to the in RPM, Body Balance and Body Combat classes. I joined the Yoga class just to help me stretch after the hardcore exercises. Over time doing high impact exercises like Body Combat, my ankles started to hurt. So naturally I reduced those classes and attended more Yoga classes. After a while I found it to be quite interesting and especially found arm balances very challenging.
I started to buy books related to Yoga. The first book I bought was Light On Yoga by B.K.S Iyengar. It opened up my eyes to so many other yoga postures that I wasn't aware of. There were more than 90% poses in the book that I could not do as I was quite stiff. This spurred me to seek more knowledge about Yoga.
When did you decide that you wanted to make a career out of teaching Yoga and how did you start?
Foo: I was excited to share what I learned about yoga with other people. So I used to give free weekly classes to my colleagues after work. During that time, teacher training courses were not so easily available in Malaysia. After scouting around for an appropriate one, I decided to take a course in Health Education with a Diploma in Yoga under Dr. Dhilip. At the same time, I also made a firm decision to leave my job in the insurance line as I realised an office job was not suitable for me.
Lucikly, right after obtaining my Diploma, the Yoga industry had just begun to boom Malaysia. I started out teaching at small studios and condos, and finally taught my first commercial gym class in California Fitness.
You are obviously doing quite well now teaching at all the major gyms. What inspired you to open Uni Yoga?
Foo: Funnily, I never planned on opening up my own studio. I used to hold classes at a community center in Damansara Jaya. However, when the new management took over, they decided not to rent out the hall. I still wanted to continue offering classes to the existing students, so I looked around to rent a place where people could come together and learn yoga together.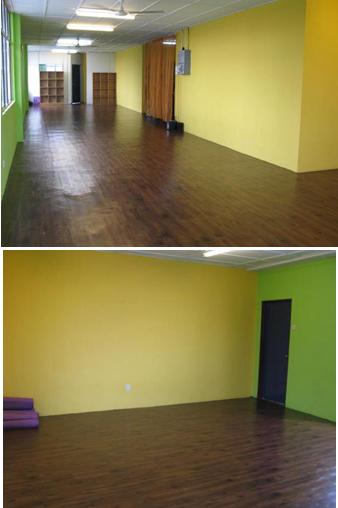 The open concept studio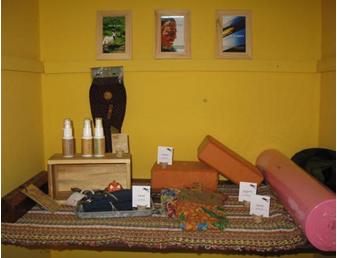 Yoga accessories on sale, including theOrganic Yoga Mat Spray (Foo's very own product)
I can't help but notice that you don't even have a signboard outside your studio. What is your secret marketing tool?
Foo: Uni Yoga was established in 2008 and started with a little over 10 members. Now we have over 50 members. In fact, most of the members are my long term students who have not only followed me, but have introduced their friends, relatives and colleagues to join the studio I am grateful to all of them for marketing Uni Yoga by word of mouth. There is nothing more convincing that hearing about a positive personal experience from a person you trust.

What type of classes does Uni Yoga offer?
Foo: There are currently 4 instructors teaching here at the studio. Junko and I teach Anusara-based principles and styles. Kelly and Keane both teach Hatha and Flow styles.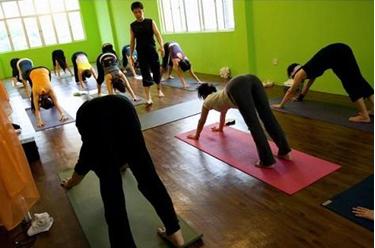 Workshop in progress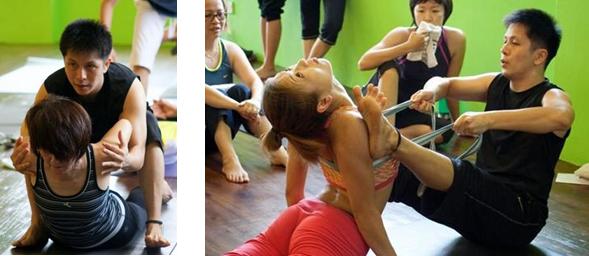 Assisting and adjusting students
What is Anusara?
Foo: The Anusara method makes it very simple. All poses, regardless of whether it is a backbend, forward bend or arm balance use only 5 principles – Open to Grace, Muscular Energy, Inward Spiral, Outward Spiral and Organic Energy.
Open to Grace basically just means to open your mind to possibilities. Before going into a pose, never think that you cannot do it.
Muscular Energy means to engage your muscles by hugging them to the bone. In simple terms, it means to contract your muscles. Doing so protects you from injury.
Inward Spiral refers to the expanding energy that opens up the back of the body.
Outward Spiral refers to the contracting energy that balances the expanding energy and brings stability into the pose.
Organic Energy means to extend from the central core of the body and outwards to the side-lines. This will leave you with a sense of freedom and confidence in the pose.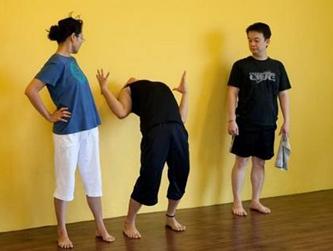 Demonstrating the right technique
What are the common misconceptions of Anusara?
Foo: People think it is all about back bends, which is not entirely true. As you improve and go deeper into the pose, you will naturally curl back, and at the same time it looks like an intense backbend. The concept is always the same. The action is always equal and opposite. You have 'hard', you have 'soft', you have 'in' you have 'out'. Ultimately it is about finding a balance.
How effective is the Anusara method?
Foo: Before, I had very stiff shoulders. Doing backbends and wheels were out of the question. Now after a year of applying Anusara principles into my practice, I am able to perform the drop back (dropping backwards into wheel from standing position). This is how effective the technique is.
Anusara is a process-oreinted, step by step method. It focuses on the preparation to get into a pose. So, it is very important to listen and be open to change. Because many flexible practitioners find it easy to go into a pose, they often don't listen and get injured in the long run. However, if they listen, they will be able to go deeper into the pose without hurting themselves.
Many of my students are middle aged and are not that flexible when they first started off. But through adopting the basic 5 principles of Anusara, their flexibility has improved immensely.
For example, a lot of people think that arm balancing poses are difficult to perform. But in Anusara, we learn to use different groups of muscles. So it is not surprising that a person who is not so strong in the arms is able to do the hand stand. In the final pose, there should be a feeling of lightness and the ability to hold a pose longer because you are in an equilibrium and most efficient state.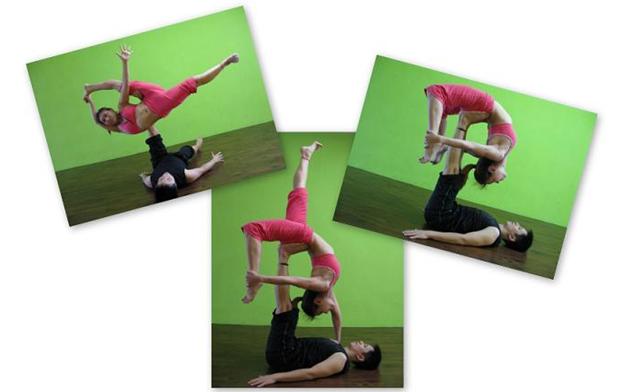 Junko and Foo performing gravity-defying poses
What are your future plans for the studio?
Foo: My focus now is to work on getting a bigger evening crowd, mainly targeting working individuals since the studio is located conveniently opposite the Kelana Jaya LRT station. I plan to also continue giving more workshops like the one that I conducted in December on painfree backbends.
Uni Yoga has a cozy and close-knit environment. It is a place where friendships are made and support is given to one another. I want to be able to keep that as an integral part of Uni Yoga, setting us apart from being just another commercial fitness center.
Planning to drop by? This is where Uni Yoga is located.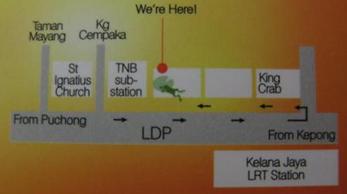 Uni Yoga
1C Bangunan S.E.
Jalan SS 25/12
Taman Desa Suria
47301 Petaling Jaya
Tel: 012-2205512 (Foo)
Email: foojonghau@gmail.com
Or simply search Uni Yoga on facebook.
First time members are entitled to sign up for 1 month unlimited classes at only RM70.