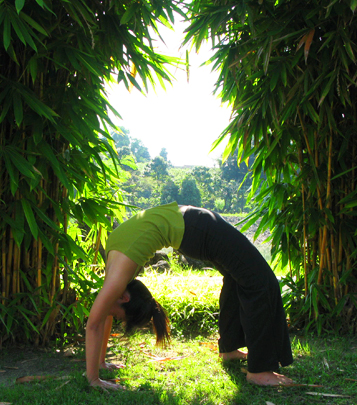 For as long as she can remember, Hui had always maintained an active lifestyle and held an insatiable interest in esoteric knowledge. She attended her first yoga class with her mother when she was 22 but little did she know that this ancient art of physical and spiritual practice would play such an influential part in her life.
For a decade, Hui partook in society's never-ending materialistic pursuit, which led her to the realisation that love, harmony and contentment are found not in accumulation of tangible goods but through the pure act of inner passion. Yoga was the perfect solution in enabling her to combine her love for physical challenge and quest for spiritual development.
Hui has now dedicated herself to sharing her experience in yoga through teaching. She is a Certified Yoga Teacher and has studied under several masters from India. Her teaching methods which incorporate elements of strength, flexibility and alignment, are suitable for both beginners and regular practitioners. Hui firmly believes that yoga will benefit anyone, whether for fitness, health or peace of mind. She hopes to help her students expand their understanding of yoga, and at the same time enjoy its wonderful journey.
Visit her website for more information: yogahui.com
| | |
| --- | --- |
| Name | Hui Hsien |
| Began practising yoga | 1999 |
| Began teaching yoga | 2009 |
| Occupation | Yoga Instructor (Group and Private Classes in and around KL) |
| Trained at | Yoga Zone, Manasa Yoga |
| Teaches | Yoga |
| Specialty | Yoga for Flexibility, Yoga for Strength, Yoga for Alignment |