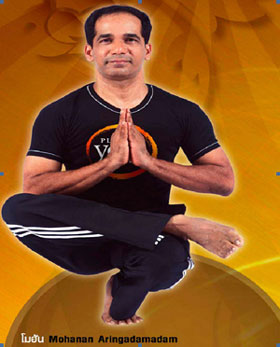 Mohanan Aringadamadam is a yoga teacher/instructor in India, having taught yoga to people of all walks of life in India, China, South Korea, Thailand and Malaysia.
He is currently looking for opportunities to offer classes and workshops for Fitness Centers, Yoga Centers, Spa, Hotel, and Corporate Offices in Malaysia.
Various styles of yoga are offered including Corporate Yoga, Yoga Therapy, Asana and Pranayama, Yoga Hot, Hatha Yoga and Gentle Yoga.
For more information, please contact:
Mohanan, International Yoga Teacher
Gayathri, H.No.1,Plot No.25,
5th Street, Guruswamy Nagar
Anakaputhur, Chennai 600070, India
Please contact me : mohan_aum@yahoo.com