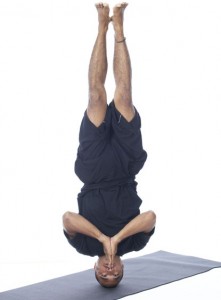 When KL-based yoga teacher Jason Isaac Collar was to try a yoga class for a bad back, he could never have anticipated the journey that followed. Jason tells his story:
"I had suffered from lower back pain for many years due to a birth defect called Spina Bifida. Spina Bifida, which literally means 'cleft spine' is characterized by the incomplete development of the brain, spinal cord and or meninges which is the protective covering around the brain and spinal cord."
Jason decided to give yoga a try after reading an article suggesting yoga can help treat niggling lower back problems.
"My first yoga class was in the central business district – Jalan Brickfields. The class, which was taught by my Guru Manisekaran of Malaysian Yoga Society, was made up of a series of fixed postures, culminating in deep relaxation. My immediate sensation afterwards was that my back felt amazing, something which for many years I had not felt. I also felt peaceful and incredibly contented – a feeling that stayed with me for many hours."
What made Jason launch his career as a Yoga teacher?
"Well, I guess I was very much in the state of transition. My initial intention was to further my experiences in the Recreation Department because I am a trained swimming, aerobic, golf and fitness instructor. However, during a conversation with my Guru Manisekaran, sometime in year 2005, he said: 'You are good at it, why don't you be a yoga teacher?' This indeed was a defining moment for me. I decided that I wanted to share the benefits I found in Yoga with ALL."
Thereafter Jason went on to pursue the Malaysian Yoga Society teacher training program accredited at Malaysian Yoga Society. When he completed the Malaysian Yoga Society teacher training program, his mind was set and that was when he knew he wanted to teach Yoga. Like the saying goes, the rest was history!
Quite quickly Jason found different places to teach – leisure centers, fitness centers, offices, and sports clubs and even on a coach trip.
"When I look back on what's happened and how things have just fallen into place, I know and believe it was meant to be. Through teaching Yoga, I have the rare privilege of leading people back to themselves – out of their busy minds and back into their bodies, turning into the body intelligence we all possess. I am an "IRYT®"s (International Registered Yoga Teachers) with The International Yoga Federation and I am also Registered Teacher with Yoga Alliance International, a world-wide association, was set up by Swami Vidyanand. Yoga Alliance International supports the integrity of Yoga practices and philosophy throughout the world, marking the commonality of the Universal Spirit."
Jason's personal biodata is as follows:
NAME: Jason Isaac Collar
DATE OF BIRTH: 18th August 1971
NATIONALITY: Malaysian
HEIGHT: 172cm
WEIGHT: 72kg
TEL: 012-366 0454
E-MAIL: jason_isaac@hotmail.com
PROFESSIONAL AFFILIATION
Executive Committee Member, Malaysian Yoga Society
"IRYT®"s (International Registered Yoga Teachers)
International Yoga Federation
Certified Instructor & Life Member
Life Saving Society Malaysia
Registered Teacher, Yoga Alliance International
Currently, working as a freelance Personal Trainer, yoga and swimming instructor at;
Fitness Clubs (Yoga)
Celebrity Fitness (Promenade One Utama, Wangsa Walk Mall, Sunway Pyramid, Mid Valley, Lot 10, Subang Parade and Bangsar Village)
Sweat Club (Renaissance Kuala Lumpur Hotel)
F1 Fitness One (Owner – Wong Ngai Hong, the only IFBB pro bodybuilder in Malaysia)
Recreational Clubs (Yoga & Personal Trainer)
The Waterfront Sports & Club Center (Desa Park City KL)
Canopy Club, (Setia Eco Park, Shah Alam)
American Express (Main Office KL)
Schools (Swimming) Sekolah Sri KDU®, Kota Damansara with Advance Aquatics National Aquatic Centre (Kompleks Sukan Negara) with Pro Swim, One Club (Kota Damansara) with Aqua Nuzt
Jason is also a personal yoga teacher and trainer to a number of VIP clients in Malaysia.