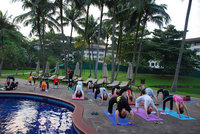 Date: Saturday, 19 June
Time: 7:00 – 8:00am
Venue: Poolside at The Saujana
Come join Manasa Yoga for a charity poolside yoga class at The Saujana. To participate, a minimum donation of RM25 per person will be collected. All funds raised through this event will be channelled to the Home of Destitute Girls in Trivandrum, India which Manasa Yoga continues to help and support. Bring your friends and family, do some yoga and feel good knowing your donation will help make the lives of these poor abandoned girls better.
This event is open to everyone and suitable for yogis of all levels.
Bring your own yoga mat and come yoga with us for a good cause.