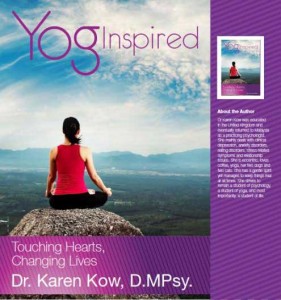 Keep an eye out for the official book launch of YogInspired by Dr Karen Kow on 16th October.
Venue: Eastin Hotel, Petaling Jaya, Malaysia.
Time: 11am-1pm
The theme of the event is "Love, Peace and Harmony". YogInspired is a book inspired by Yoga but written for everyone with the aim of helping people improve their overall wellbeing – physical, emotional and mental.
The book shares some values for leading a good quality of life, sustaining healthy relationships and achieving happiness and inner peace. Dr Karen has invited respected leaders from all walks of life who have read the book and believe in the message within the pages of this book.
To attend the event, contact Dr Karen Kow by visiting http://www.yoginspired.com