Paritosh Sharma is an experienced and certified yoga instructor from Rishikesh, India, also known as the City of Temples, Yoga and Meditation. Pari began his yoga practice under the Himalayan Tradition of Yoga Meditation, studying under the guidance of Swami Veda Bharati, a disciple of Swami Rama.
The Himalayan Tradition of Yoga Meditation combines the wisdom of Patanjali's Yoga-sutras, the philosophy and practices of the Tantras, and the specific oral instructions and initiatory experiences passed on by a long line of saints and Yoga masters.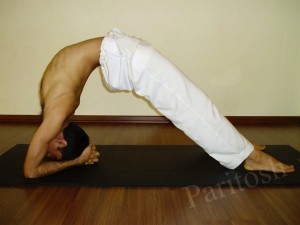 Pari has also studied under the most senior teachers trained by BKS Iyengar himself at the Ramamani Iyengar Memorial Insititute in Pune, India. Pari has been teaching in Malaysia since 2006, where he was appointed as Head of Yogazone's Teacher Training Course.
To date, Pari has trained more than 100 yoga teachers, both here in Malaysia and in India. Pari currently teaches at Cinq Energies International Therapy Centre ( Solaris Dutamas ), Yogshakti ( Ampang ) and Chi Fitness, Bangsar Shopping Centre.
Pari teaches classic, authentic Hatha Yoga and specialises in pranayama (breath practices), yoganidra (subtle relaxation practices) and yoga philosophy. He is known as a compassionate teacher who ensures his students practise in a correct and safe manner in order to avoid injuries, whilst gaining the full benefits of each posture. His classes can be tailored to suit practitioners of all levels, from beginners to advanced.
Apart from teaching yoga, Pari is also an accomplished classical guitar player.
Pari is available for private, group and corporate classes. For more information, he can be contacted at paritoshsharma21@yahoo.com or 014-6472729.