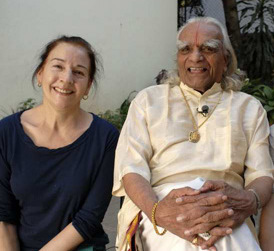 Date: 4 – 9 July 2011
Venue: Treyoga Studio (Organized by Yoga At ZEA)
D3A-9 Dana 1 Commercial Centre
Jalan PJU1A/46
47301 Petaling Jaya
About Bobby Clennell
Bobby Clennell has been a direct student of B.K.S. Iyengar, Geetha Iyengar and Prashant Iyengar for over 35 years. She is a core faculty member of the Iyengar Yoga Institute New York. In her teaching style, Bobby combines discipline and precision with warmth, humor, compassion and encouragement. She is the author and illustrator of 'The Woman's Yoga Book'. Her new children's book,' Watch Me Do Yoga' was published in September 2010.
Course Focus
A comprehensive program of asanas tailored specifically for women. Helps to develop a cyclically responsive practice where we avoid injury and fatigue & promote vibrant good health, boost fertility and help lead women to a smooth transition through a trouble-free menopause.
Workshop Schedule and Descriptions
4 July 2011 (Mon)
Session 1: 10am – 1pm
General Asana Class : The Principles of Alignment 1
Learn the basic principles of alignment through a sequence of standing and other poses.
Session 2: 2:30pm – 5pm
General Asana Class – The Principles of Alignment 2
Adding in flexibility principles to explore the relationship between hamstring and quadricep muscles with the pelvis, spine and heart.
5 July 2011 (Tue)
Session 3: 10am – 1pm
Session 4: 2:30pm – 5pm
Women's class – Menopause & Post-menopause
Learn to navigate through the menopausal transition with a practice that calms the nerves and brings hormonal balance. Heal through hip openers and supported poses that address problems such as hot flashes, insomnia, fatigue and anxiety, stiffness, osteoporosis, joint pains, weakness and loss of muscle tone.
6 July 2011 (Wed)
Session 5: 10am – 1pm
Session 6: 2:30pm – 5pm
Women's class – Menstrual Cycle
Explore solutions to common menstrual difficulties and issues surrounding fertility. Learn how to synchronize our practice with the hormonal ups and downs.
7 July 2011 (Thu)
Session 7: 10am – 1pm
Women's Class – Back Bends and Breast Health For Everyone
A sequence of back bends (supported and unsupported) and other poses that promote lymphatic drainage, strengthen the immune system, support the liver function opens up the chest, upper back, shoulders and support breast health.
Session 8: 2:30pm – 5pm
General asana class – Inversions
Inversions widen our spiritual horizons and help cultivate insight and mental clarity. Also develops strength, particularly in the neck, spine and arms.
8 July 2011 (Fri)
Session 9: 10am – 1pm
General asana class – Restorative
Practice a mentally calming sequence to generate the energy you need for life. Be introduced to poses that address issues such as physical and mental exhaustion, fatigue, emotional depletion, stress and depression.
Session 10: 2:30pm – 5pm
General pranayama class
Learn the fundamentals of a safe and secure pranayama practice.
9 July 2011 (Sat)
Session 11: 10am – 1pm
Women's Class – Yoga for Pregnancy
A sequence of asanas and pranayama practice to help soothe nerves, alleviate tiredness and to strengthen the pelvic floor muscles. Learn safe and supportive poses to prepare the expectant mother for labor and delivery.
Session 12: 2:30pm – 5pm
Women's Class – Yoga for Post Partum
Learn how to recuperate from childbirth through asanas that support lactation and recovery of the abdominal muscles
Workshop price
Confirmation before 31st May / after 31st May 2011
Single Session : RM160/RM180
Any 6 Sessions : RM900/RM 1000
Full Workshop : RM1600/RM1900
Kindly contact Anita 012-2095464/ Edison 012-5765091/ Zoe 012-3060211 for further information or send your enquiry to zeayoga@gmail.com.