Min Sim is a dedicated yoga practitioner. Formerly an Investment Banker, she has turned entrepreneur and recently launched Om Republic – her own line of Yoga and Dance Wear, which we profiled last week. Min speaks to KLyoga about her business, passion, dance and yoga.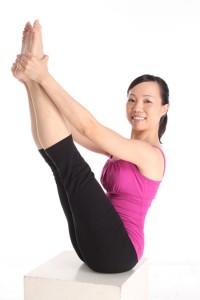 KLY: Chinese cultural dance isn't quite as popular as other dances that people take up nowadays like modern, hip-hop, ballroom etc. How did you get involved in it and why?
Min: It was the only type of dance they taught at my secondary school's dance club. But looking back, even if they had offered modern, hip-hop or ballroom, I would've still chosen Chinese dance. It's beautiful and lyrical, with a very distinct character.

KLY: The first thing that pops to mind at the mention of Chinese Cultural dance, is a troupe dressed in traditional Chinese garments dancing in unison with brightly coloured fans. Is this a correct description of the art? How is it different from other dances in terms of discipline and techniques?
Min: I believe what you described is what comes to most people's minds! But Chinese dance can be a lot more subtle and varied than that. Growing up, I was very lucky to have dance teachers from China and Taiwan who brought some of the latest teachings and trends from professional dance academies in their home countries–very classy, very subtle choreography. In terms of discipline and technique, there is strong emphasis on moving with fluidity and grace, and also flexibility.
KLY: You are also an avid practitioner of yoga. Has the practice of yoga changed your outlook on life? Have you seen any improvements to your health since you started practising yoga?
Min: On the physical level, yoga has helped to build up my strength, and I've also regained the flexibility I once had as a dance student. On the non-physical level, yoga helps to cultivate a calm mind. I feel stronger and healthier than I've ever been, and also surrounded by a general sense of well-being.
KLY: What kind of yoga do you practise?
Min: I practice Ashtanga yoga, which follows a set sequence of asanas. The focus is on synchronizing breath with movement. It's systematic and challenging. I love it.
KLY: Would you ever consider starting your own yoga studio?
Min: That has not crossed my mind–I'm just a regular yoga student!
KLY: You were a former investment banker before you switched careers. Any regrets? How is the difference in your daily life before and after the switch?
Min: Investment banking was a valuable professional experience, and I learned a lot. What I'm doing now is completely different. It's the coming together of my various interests—yoga, dance, art, design, and doing our bit for the planet. So no regrets. The biggest difference between then and now is, now I have a lot more control over my schedule and time, and I always set aside time for yoga in the mornings.
KLY: Retrenchment is never an easy thing to cope with. How did you cope with it and what would you advise others who might face the same situation as you?
Min: I started going to Mysore-style Ashtanga yoga class 5-6 times a week (compared to just twice a week when I was still holding a full-time job), for about 1.5 hours each time. It's a fantastic way to start the day—you're focused on your breathing, getting into the asanas, and keeping a quiet and focused mind. And because I was going so frequently, my practice improved, and my teacher started giving me more asanas. It was fun and challenging, and kept me grounded and happy. I think it's helpful to take time to do the things you've always enjoyed, but never had enough time for while holding a full-time job. For all you know, it might inspire you to do something you never thought of doing before.
KLY: Making a career switch is scary for a lot of people even when they have steady jobs, but you decided to do it while you were between jobs. This is admirable. Did you have any doubts along the way? What encouraged you to go through with it?
Min: Thank you for the kind words. Actually, once the idea came to me and I had a goal in mind, I just started working towards it. It was the coming together of lots of things that I enjoy, and that naturally moved things along.
KLY: Have you ever had experience in the retail business before Om Republic? The retail business entails many things such as designing, sourcing of raw materials, manufacturing, and distribution. How did you learn to do all these things?
Min: My background is in corporate finance, which is very different from retail. But my business school education was useful—it gave me the concepts and frameworks for planning a business. And then, just lots of learning on the job.
KLY: Did you find any difficulty in keeping to your vision of manufacturing garments that are green? For example in terms of finding resources or in the additional expenses and costs related, compared to products that are more generic and non-green?
Min: Actually, once I decided to make it an eco-friendly line, you could say it made things more straightforward. It ruled out the non eco-friendly alternatives, and allowed me to be more focused in my search.
KLY: Having a vision and making it a reality are two different things. Did you encounter any difficulties or setbacks while you were setting up Om Republic?
Min: Nothing so major that would make me give up. I think it's because I really enjoyed what I was doing.
KLY: You have now successfully launched your own line and are an entrepreneur. What would you advise others who wish to also start their own business?
Min: Choose something that you're passionate about. If you love it enough, you'll find ways to make it happen.
KLY: Conscious and green living are obviously values that you hold dear to your heart. Many people however still feel that global warming is not yet a threat to be taken seriously. What do you think about this?
Min: I'd say, try spending a day in the tropics with no air conditioning. I don't remember it being this hot when I was growing up as a kid!
KLY: What other green living habits do you have in your everyday life?
Min: I recycle everything that can be recycled, and bring my own re-usable bag when I go grocery shopping. It's the little things that add up.
KLY: Will Om Republic hit Malaysia's shores sometime soon?
Min: I'm always on the lookout for retailers, so drop me a line if you know of anyone who's looking to bring on board an activewear line!
KLY: What are the main differences between yoga wear and dance wear?
Min: Dance wear tends to be fitted everywhere because you need to see the dancer's lines very clearly. But with yoga wear, you can get away with capris that are flared at the calves.
KLY: What are your plans for yourself and Om Republic in the next few years?
Min: Build the business, and help it grow. And of course, keep doing yoga.
SPECIAL PROMOTION FOR KLYOGA READERS
Om Republic is pleased to offer free shipping to Malaysia for KLYoga readers, for orders above SGD$100. To make use of this offer, shop at http://www.omrepublic.com and enter discount code KLYG1 at checkout. Offer valid until 31 July 2010.
For more information about Om Republic, please contact:
Min Sim
Founder, Om Republic
Email: info@omrepublic.com
Mailing Address: 4 Toh Tuck Link, #04-19, Singapore 596226
Website: http://www.omrepublic.com