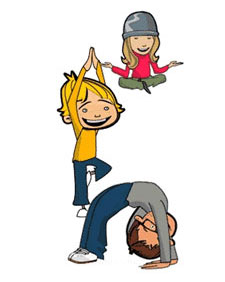 Not many yoga centers in KL hold kids yoga classes currently. Actually some parents may not know that kids from ages 3 to 12 years old can learn yoga too. I only got to know about kids yoga classes when my yoga centre started offering the classes last two months.
I had paid a visit to the Kids Yoga class as I was curious what type of yoga they are their actually practicing. Surprisingly, the kids are doing poses similar to adults. They also do warm-up at the beginning before starting the actual yoga. However, the yoga they practice is mostly is a mixed version which involved a bit of hatha yoga, vinyasa yoga, power yoga, relaxing yoga and others. It's very interesting as it involves lots of movement.
When the teacher asks them to go back to their places to start the class, the kids run back to their own yoga mat. Then warm-up started. When they were asked to do the pose, they did it very easily and fast. Their body is very flexible to perform the poses accurately and easily. Yet they show less concentration in each pose as though it was quite boring and tiring, having to hold each pose for some time. I guess that's why kid's yoga combine lots of yoga types which makes it more interesting.